1. General - Scope of Application
These Terms of Trade and Usage conditions apply to all sporting events held in the town of Ruhpolding in the Chiemgau Arena Ruhpolding, including the purchase of tickets, and are included in the rights acquired with the purchase of a ticket to visit the premises of the Chiemgau Arena.
 2. Offers, Conclusion of Contract, Content of Contract, Showing Card on Entry
a) The contents of our Internet pages, or Internet sites to which you are redirected to order tickets or other offers, contain no contractual offer on our part, and are only an invitation to submit an offer. Upon ordering tickets, you are submitting a binding offer with the municipality of Ruhpolding to acquire the tickets of your choice. The conclusion of the contract (purchase of a ticket) comes into effect once you have confirmed the order or proceeded with an Internet purchase of the desired tickets via so-called "[email protected]", or sent by post or handed over at the point of sale.
b) the purchase of tickets via the Internet is carried out via the website of AD ticket GmbH.You will be redirected by clicking on the 'TICKETS/ONLINE TICKETS' button. In addition, AD ticket GmbH terms and conditions also apply for purchases made via the Internet.
c) By purchasing a ticket, you are entitled to access the Chiemgau Arena as a spectator, according to the ticket category and according to the general conditions of the event and the Chiemgau stadium regulations, for the day for which the ticket was purchased. There is no entitlement to a specific competition on this day, even when a competition is specified on the ticket.
d) Access to Chiemgau Arena or an event is permitted only upon presentation of a valid ticket.
3.  Ticket Prices, Discounts, Terms of Payment, Ticket Categories
a) The prices specified on the order page or at our homepage apply to tickets for a specific day or multiple days, priced per person. Prices include VAT and a pre-sale and processing fee. An additional shipping fee will be charged for sending tickets by post.
b)   Discount categories:
Young people between 11 and 17 years of age, school children, students, military or civilian service personnel and the severely disabled are entitled to a discount on the price of the ticket as indicated on the order page. Proof for entitlement of discount should be submitted prior to entering the event premises at admission. Only one discount category per ticket and per person can be claimed. Children up to 10 years of age require a ticket. These can be obtained free of charge, but only at the ticket office at the stadium (ID to be presented).
c)  Ticket categories (grandstand tickets, track tickets, etc: see chart below)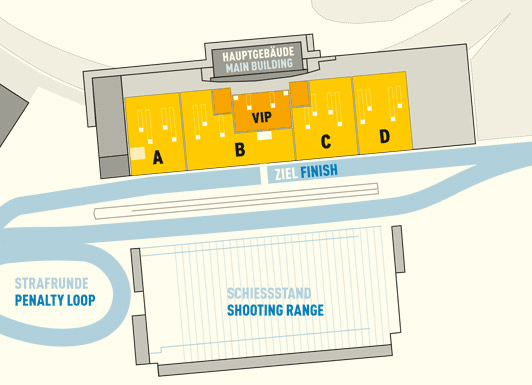 If you decide to purchase an arena ticket, you can of course use this at the track; However, a track ticket, does not entitle you to visit the arena.
Multiple day passes are valid for specified days of a competition. Please also note that for safety reasons, there is limited wheelchair space for each event at the Chiemgau Arena. Arena in the grandstand and track.
4. No Right of Withdrawal and Right of Return in Accordance with the Long Distance Selling Act
Our service, distributing tickets for sporting events via the Internet, is categorized within the field of leisure events. In this respect, the Long Distance Selling Act does not apply (see § 312b paragraph 3 No. 6 BGB). This means that there is no right of cancellation and/or return with respect to tickets purchased over the Internet.
5.  Event Dates/Postponement of Events/Cancellation
a) Sporting events taking place in the Chiemgau Arena are outdoor events, so that the carrying out and times of individual events may be influenced by weather conditions. In addition, for the conduct of sporting events and individual competitions, we are bound by the provisions and rules of national and international sporting federations. Therefore, the days specified on our website or order page, and the times listed for individual competitions during an event (e.g. IBU World Cup Ruhpolding), are not binding, and their time may be changed to another time on the same day, moved to a different day, or completely cancelled, due to weather conditions (e.g. temperatures of under minus 20 degrees Celsius, fog, heavy fog, heavy snowfall) or the requirements of national or international sports federations.
b) Each ticket purchased therefore only entitles access on the day for which you have purchased the ticket (for multiple day tickets for the specified days), as a spectator to the Chiemgau Arena for the ticket category specified, but not for a specific competition on this day. Therefore, if the starting time for a competition is moved to a different time on the day of the competition, you can obviously participate in this competition as a spectator. If, however, the competition is adjourned to another day, access to this event is only possible if you have a valid ticket for that day.
c) It is your responsibility to inform yourself in advance of each event or competition for the day for which your ticket was purchased, in due time, and of the current schedule of events and exact starting times of competitions. Current information is available on our homepage at www.biathlon-ruhpolding.de.
6. Parking and Transport to the Chiemgau Arena
a) During major sporting events (e.g., World Cup, World Championships) the municipality of Ruhpolding provides free parking in Ruhpolding, from where there is a free bus shuttle service to the Chiemgau Arena.
b) The provision of free parking does not however grant entitlement to a place a vehicle in a parking lot, and the municipality of Ruhpolding has no obligation to monitor parking lots or any vehicles parked there. Liability for damages occurring as a result of any unauthorized acts caused by third parties is excluded.
This applies in particular to damage, destruction or theft of motor vehicles or portable/built-in objects inside a vehicle (e.g. car radio, valuables) and vehicle fixtures by third parties.
c) The provision of a free shuttle bus service to the Chiemgau Arena is not an entitlement to transportation at specific times. Visitors should arrive in due time, as delays can occur, in particular shortly before the start of competitions, due to crowds. The municipality of Ruhpolding accepts no liability for delayed arrival times for events at the Chiemgau Arena.
7.    Liability of the Municipality of Ruhpolding
The municipality of Ruhpoldung is only liable for damage insofar as this is based on premeditation or gross negligence on the part of the municipality of Ruhpolding, its representatives or vicarious agents, and not therefore in cases of simple negligence. This limitation of liability does not apply in the case of culpable violation of life, body or health or the culpable breach of material contractual obligations (such obligations as make possible the fulfilment of the proper fulfilment of the contract and on which the contractual partner may normally rely.)
 8. Access to the Venue and Stadium Regulations
For access to the event grounds and with respect to conduct on the premises before, during and after an event, the stadium regulations which are displayed in the venue are an integral part of these terms and conditions, and can be viewed, saved or printed from our homepage at www.biathlon-ruhpolding.  => Stadium Regulations